Specification
Model
Ruckus R510
Product Number
RK-9U1-R510-WW00
Access Point Type
Indoor Access Point
Wi-Fi standards
802.11a/b/g/n/ac Wave2
Target deployment
Medium
Antenna type
Internal
Modularity support
No
Number of radios
Dual (2.4 GHz and 5 GHz)
Combined maximum data rate
867 Mbps
MIMO radio design: number of spatial streams
2x2:2 MU-MIMO
Channel width
20 MHz (2.4 GHz); 20/40/80 MHz (5 GHz)
Concurrent MU-MIMO
2
Maximum clients (Recommend)
150
Controller-less Access Point
Support
Ethernet support
2 x 1 Gbps
USB port
Yes
Bluetooth Low Energy (BLE)
No
Beam forming
Beam Flex
RF interference avoidance
Automatic interference mitigation
Band Select
Yes
Rogue access point detection
Yes
Wireless Intrusion Protection System (wIPS)
No
Power options
802.3af/802.3at
Temperature range
0 to 40°C
By definition, small and medium-size venues host a smaller number of users and devices. But high-performance Wi-Fi is just as important to each and every one of them. People are still accessing the same bandwidth-hungry applications and cloud services they would use anywhere else. Organizations are still connecting an ever-growing assortment of mobile and Internet of Things (IoT) devices. Users and guests still expect consistent, reliable connectivity wherever they roam.
The R510 802.11ac Wave 2 access point delivers the ideal combination of performance, reliability, and coverage for medium-density indoor locations. Using the same patented technologies found in our premier high-density APs, it supports data rates up to 1.2Gbps, along with industry-leading Wi-Fi intelligence to extend range and mitigate interference.
The R510 is the perfect choice for medium-density venues such as small and mid-size enterprise locations, common areas in hotels and office buildings, retail sites, and branch offices. In hotel common areas, for example, the R510 provides high-performance wireless access. In retail stores, it can provide reliable, inconspicuous connectivity for high-quality video applications, wireless IP phones, and handheld point-of-sale scanners.
The R510 802.11ac Wave 2 Wi-Fi AP and switch incorporates patented technologies found only in the Ruckus Wi-Fi portfolio.
Extended coverage with patented BeamFlex+ utilizing multi-directional antenna patterns.
Improve throughput with ChannelFly, which dynamically finds less congested Wi-Fi channels to use.
Additionally, the R510 provides next-generation 802.11ac features like MultiUser MIMO (MU-MIMO) connectivity. It can simultaneously transmit to multiple client devices, drastically improving airtime efficiency, overall throughput for all users—even those with non-Wave 2 clients. The R510 also features a USB port for hosting IoT devices such as Bluetooth Low Energy (BLE).
Whether you're deploying ten or ten thousand APs, the R510 is also easy to manage through Ruckus' appliance, virtual and cloud management options.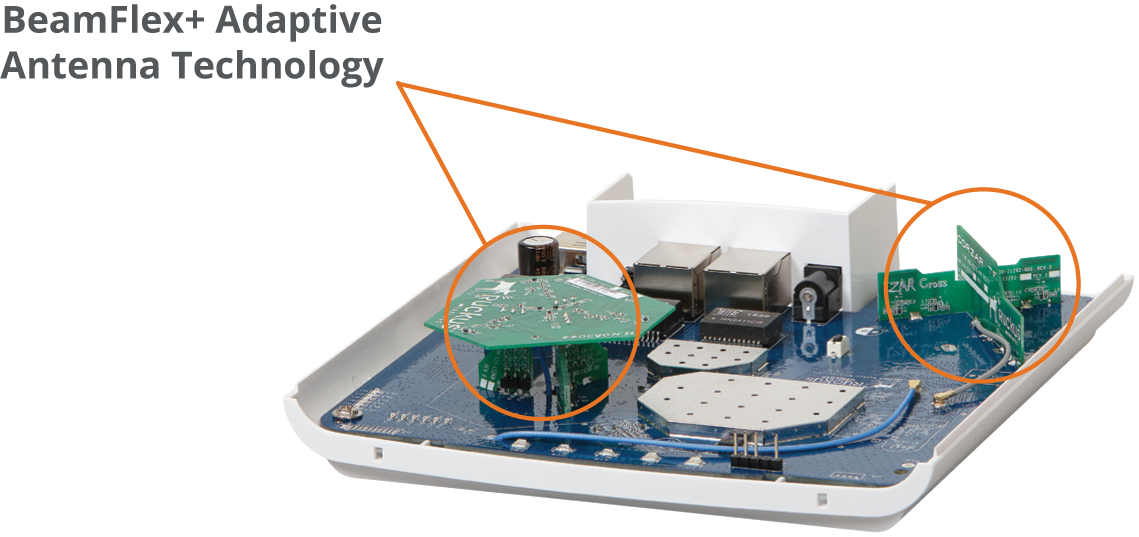 BENEFITS
STUNNING WI-FI PERFORMANCE
Provide a great user experience no matter how challenging the environment with BeamFlex+™ adaptive antenna technology and a library of 64 directional antenna patterns.
SERVE MORE DEVICES
Connect more devices simultaneously with two MU-MIMO spatial streams and concurrent dual-band 2.4/5GHz radios while enhancing non-Wave 2 device performance.
AUTOMATE OPTIMAL THROUGHPUT
ChannelFly™ dynamic channel technology uses machine learning to automatically find the least congested channels. You always get the highest throughput the band can support.
MULTIPLE MANAGEMENT OPTIONS
Manage the R510 from the cloud, with on-premises physical/virtual appliances, or without a controller.
BETTER MESH NETWORKING
Reduce expensive cabling, and complex mesh configurations by checking a box with SmartMesh™ wireless meshing technology to dynamically create self-forming, self-healing mesh networks.
MORE THAN WI-FI
Support services beyond Wi-Fi with Ruckus IoT Suite, Cloudpath security and onboarding software, SPoT Wi-Fi locationing engine, and SCI network analytics.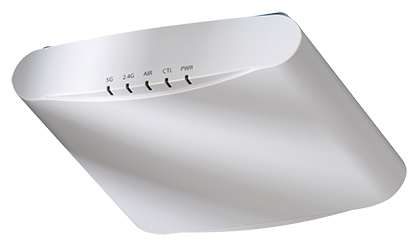 ACCESS POINT ANTENNA PATTERN
Ruckus' BeamFlex+ adaptive antennas allow the R510 AP to dynamically choose among a host of antenna patterns (up to 64 possible combinations) in real-time to establish the best possible connection with every device. This leads to:
Better Wi-Fi coverage
Reduced RF interference
Traditional omni-directional antennas, found in generic access points, oversaturate the environment by needlessly radiating RF signals in all directions. In contrast, the Ruckus BeamFlex+ adaptive antenna directs the radio signals per-device on a packet-by-packet basis to optimize Wi-Fi coverage and capacity in real-time to support high device density environments. BeamFlex+ operates without the need for device feedback and hence can benefit even devices using legacy standards.
Figure 1.Example of BeamFlex+ pattern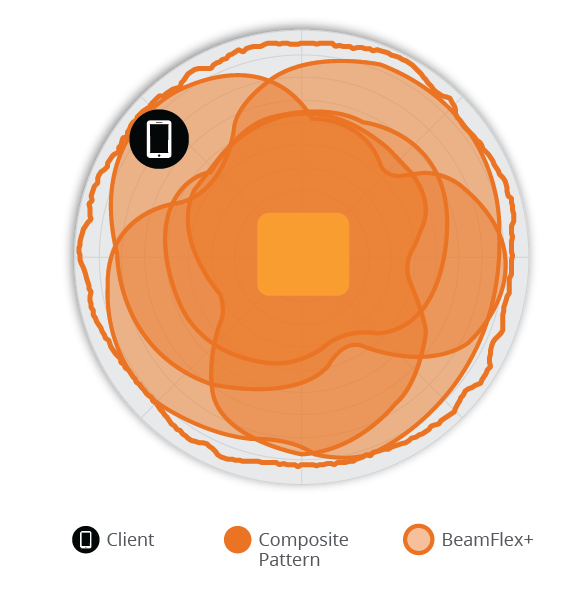 Figure 2.R510 2.4GHz Azimuth
Antenna Patterns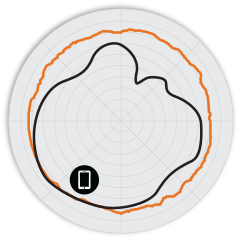 Figure 3.R510 5GHz Azimuth
Antenna Patterns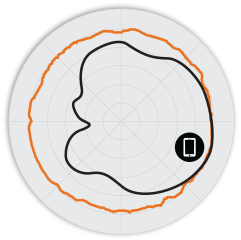 Figure 4.R510 2.4GHz Elevation
Antenna Patterns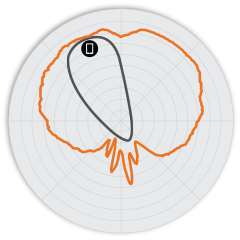 Figure 5.R510 5GHz Elevation
Antenna Patterns